The Eagles of Poland lost their forward Arkadiusz Milik to a knee injury encountered during their World Cup Qualifier victory against Denmark early this month in Warsaw, Poland.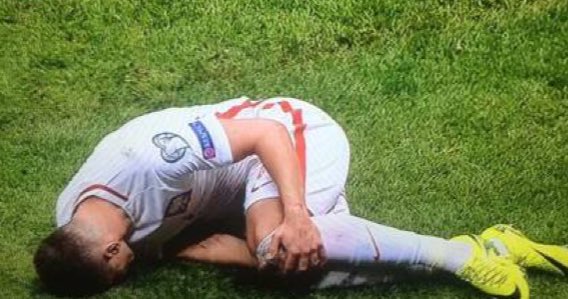 The Polish football federation declared that the Napoli forward will probably go for surgery after experiencing a critical damage in the anterior cruciate ligament in his left knee during Poland's 3-2 victory against the Danish Dynamite.
"Arek Milik has gone for tests on his injured knee, the result has shown that he has damage to the anterior cruciate ligament," Kwiatkowski, the federation spokesman, tweeted. "Arek will go back to Napoli on Sunday for more effective treatment which ensures a quicker recovery. He is likely to undergo surgery and may be out for several months."
The 22-year old Polish is alleged to return earlier than expected as stated by Napoli's medical chief Alfonso De Nicola. He stated that Milik could return to training as early as January as his left knee is getting back to the perfect condition quicker than initially announced.
"We announced before now that (he will return) in three months' time, maybe three and a half, but we are hopeful that it will be even less." He declared to Radio Kiss Kiss
The Whites and Reds have not lost a match since they were knocked out by the ultimate winner of Euro 2016 tournament, Portugal in quarter finals after a full time 1-1 draw. They set on the World Cup qualifier matches, 2-2 draw in their visit to Kazakhstan, while they hosted Denmark in 3-2 victory.
Adam Nawalka's men are set to visit Romania after a narrow winning over ten-men Armenia in their last 2018 World Cup qualifier, as the brilliant last minute header came from the Bayern Munich forward, Robert Lewandowski at Warsaw National Stadium, Poland.
Category: Poland | Tags: Arsenal, Goals, HALLELUJA, Lewandowski, Lukas, Podolski, Robert Comments Off on MILIK PICKS UP A KNEE INJURY