Real Madrid hitman Karim Benzema is eyeing Champions League history in terms of the most goals scored in a single season in the history of the competition. The Frenchman became only the third player to score 15 Champions League goals in a single season after Cristiano Ronaldo and Poland international Robert Lewandowski when he took his tally to 15 goals for this season during the second leg of the semifinal tie between Manchester City and Real Madrid. He needs three more goals in the final to break the record currently held by Ronaldo.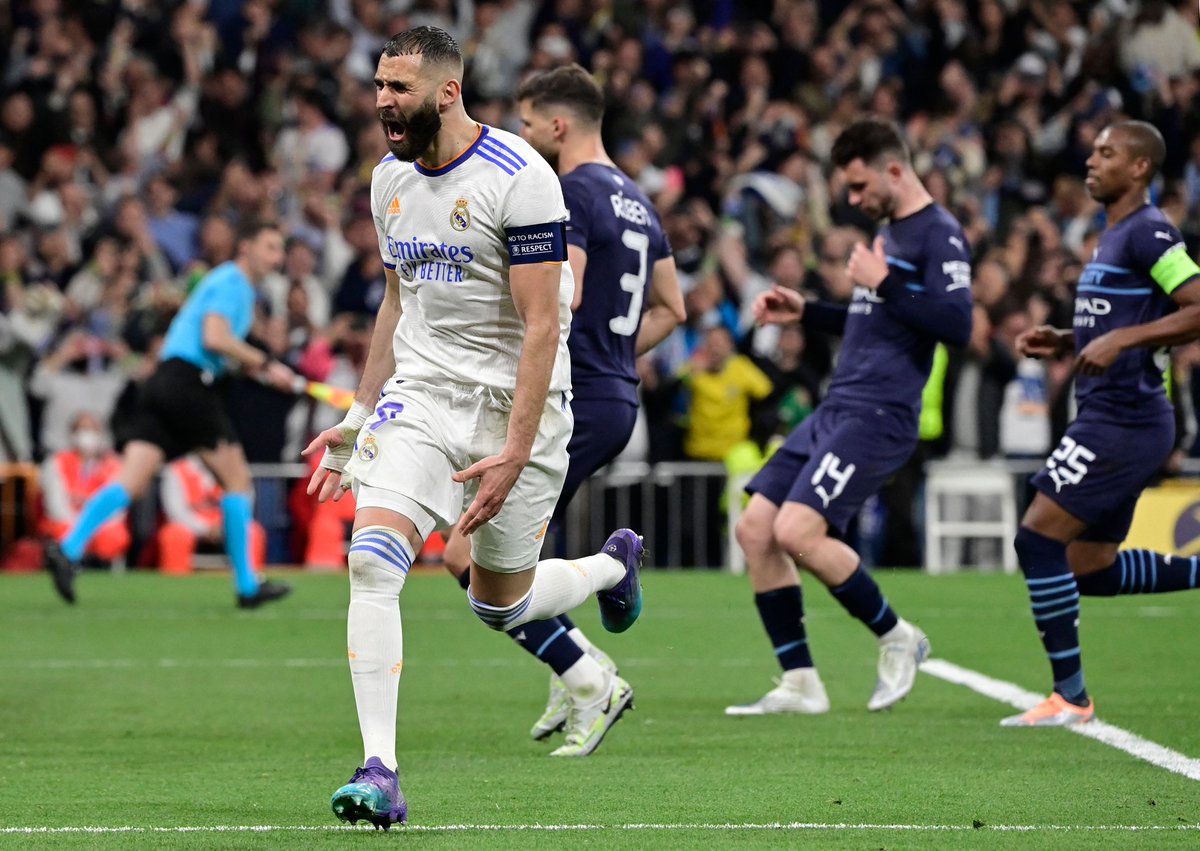 Benzema came into the semifinal tie between his Real Madrid side and Manchester City with 12 goals in nine matches and he was able to take his tally to 14 goals in ten matches with a brace in the first leg which ended in a 4-3 defeat for his team away from home. In the second leg, Algerian player RiyadMahrez scored on 73 minutes to put English champions Manchester City 1-0 up on the night and 5-3 up in the tie. Brazilian star Rodrygo Goes then scored twice for Real Madrid between the last minute of the game and the first minute of added time to take the game to extra time courtesy a 2-1 win for the hosts on the night and a 5-5 aggregate scoreline.
Real Madrid were able to seal the aggregate 6-5 win over Manchester City thanks to the penalty from Benzema at the start of extra time. He won the foul and scored the resulting penalty to take his tally to 15 goals thus matching Poland national team skipper Lewandowski and Portuguese superstar Ronaldo. His penalty goal was enough to take Real Madrid to the 2022 UCL final.
Ronaldo was the first player to score 15 or more Champions League goals during the 2013/14 season with 17 goals and he repeated the feat twice with 16 goals during the 2015/16 season and 15 goals during the 2017/18 season. Poland star Lewandowski of Bayern Munich is the second player to score at least 15 Champions League goals after he netted 15 goals during the 2019/20 season.
Category: Uncategorized Comments Off on BENZEMA EYEING CHAMPIONS LEAGUE HISTORY