Poland international goalkeeper ArturBoruc has announced his retirement from international football.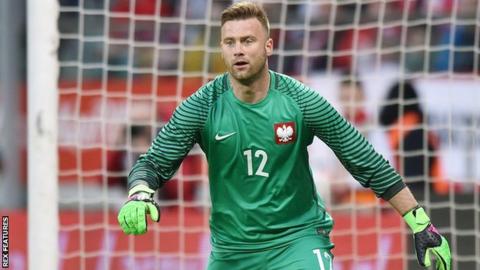 The player who currently plays for English Premier League side Bournemouth said that he believes that this is the right time for him to retire from international football as he wants to focus on his club football at the moment.
Boruc who is now 37 years old is the most capped goalkeeper for Poland and has participated in major tournaments with the national team in the 2006 World Cup and the Euros 2008. He said that he feels that at this age he needs to rest a bit more and retiring from international football will allow him to focus more on his Bournemouth career.
He made a statement on the Bournemouth website and said that he wants to thanks the Poland national coach as well as all the persons that have helped him during his international career. He had also thanked the fans for their massive support and said that he is always available to help the team whenever they need him.
He believes that there are some good goalkeepers right now in Poland and that the team should have no problem in replacing him.
ArturBoruc said that he has always represented his country to the best of his abilities and he said that he would cherish the memories during all his lifetime. He feels that he is leaving the team with a sense of accomplishment and he is proud that he is leaving the team as the most capped goalkeeper in the history of Poland.
Boruc said that now he wants to focus on the end of the season with Bournemouth. He admitted that the team has not been performing that well in recent weeks and it is important that they regroup and get back in form if they do not want to get entangled in a relegation battle.
Category: Poland | Tags: Arsenal, Lewandowski, Lukas, Robert Comments Off on Artur Boruc retires from international football